Azure Advent Calendar 2019 – Azure NetApp Files
What's it all about?
A couple of months ago I volunteered to produce a video as part of the Azure Advent Calendar series. This is a first for me and most definitely something that does not come naturally. However, I have to say that it has been a privilege to be involved with this awesome project.
This community-driven project is the brain child of a pair of Microsoft MVPs, Gregor Suttie and Richard Hooper. Each day there will be three videos released, all of the content has been created and produced by members of the #Azurefamily. It covers a huge variety of topics across the many services that Azure has to offer.
My contribution
My contribution for this year's Azure Advent Calendar is about Azure NetApp Files (ANF) and how you can 'Run your most demanding file-based workloads in Azure'. The video gives a high-level introduction to ANF, how to configure the service within the Azure portal, mounting the volume on a host and run a performance test. In order to set the scene I have created a Visio diagram which shows a high-level overview of my ANF demo environment that I used in the creation of my video, see Figure 1.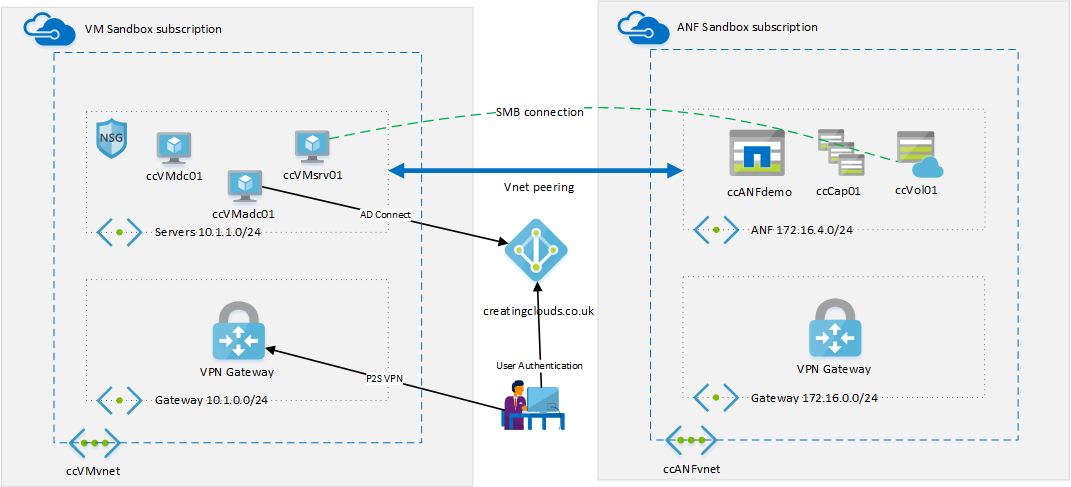 Now as I'm sure those who work within Azure will appreciate, as cool and as awesome as Azure is, when it comes to hands-on experience it can be a challenge as it costs money to run some of these services. One way that allows me to play with Azure at zero cost is to use my MSDN subscription(s). Included as part of the MSDN subscription is a certain amount of Azure consumption to use for dev and test purposes. Over the years I seem to have collected a number of these MSDN subscriptions. By combining them together, it has allowed me to setup, configure and learn about certain services and how they function whilst leveraging the free consumption that they each have allocated individually.
The diagram above shows two subscriptions, named VM Sandbox and ANF Sandbox. As the names allude to, one hosts VMs and the other hosts Azure NetApp Files (ANF). Within each subscription there is a VNet, these have been linked together using VNet Peering to allow resources in either subnet to talk to each other. This it means I can have VMs running and use ANF at the same time whilst managing spend.
For this demo, in my ANF Sandbox subscription I created an ANF account, a capacity pool with a 2TiB volume and attached it to a host running in my VM Sandbox subscription. Once mounted on the host I run a small performance test to see what throughput ANF delivered for the volume that I mounted on my Windows server.
My video
If you'd like to view this video and the results of the performance test, please click on the image below. Also, please check out the Azure Advent Calendar YouTube Channel where you can view many other videos from the #Azurefamily.
The PowerPoint presentation used during my video can be downloaded here
Summary
It has been a privilege to have been involved with this project, many thanks to Gregor Suttie and Richard Hooper for organising such an awesome event and for allowing me to participate. I hope that you have found this blog/vlog useful and please do continue to watch and support the remainder of the Azure Advent Calendar 2019.
If you are interested to learn more, I have recently produced two other blog posts about Azure NetApp Files covering setup, features and use cases.
Thanks for stopping by and Merry Christmas!